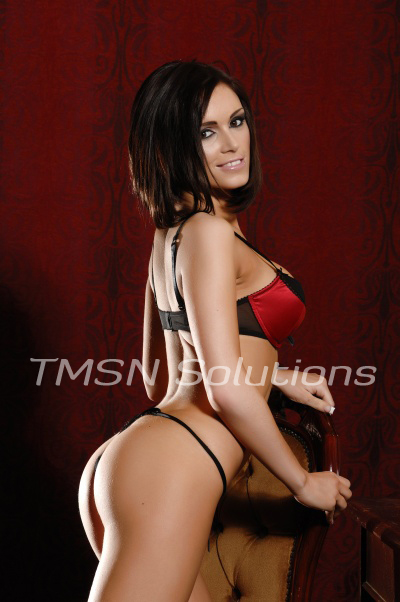 Sadie          1-844-332-2639 ext 222
It was an ordinary night. Maybe you noticed your wife acting a little strangely, maybe a little nervous, but I'm sure you had no idea what was in store for you. When you were settling in after dinner and the doorbell rang, it must have seemed suspicious that she didn't seem surprised, didn't it? When I walked into the room, wearing my short tight black leather skirt and matching corset, and carrying my little bag of tricks, your face revealed your shock.
"Hello, my name is Sadie, and your wife has asked me to come over tonight and spice you up a little." That was all the introduction you would get. I saw the stubborn rebellion flash across your face. I know how to fix that i thought. I grabbed your wife by her hair, and yanked her head over until her cheek lay against my breast. She shivered with excitement. But my eyes were on yours. "Oh don't worry I don't need your cooperation." I grinned and unbuttoned your wife's blouse. "I have hers.. don't I?"
"Yes Mistress." was the simple answer from your wife's lips. I held on to her hair, and pushed her over so that her hands were on your knees, and I lifted the back of her skirt. You had to see the look of lust and longing in her eyes as my nails circled her ass cheek. "Tell your husband what you want whore."
"I want to be a submissive slut" was her immediate response. The wide-eyed look of surprise on your face as my hand smacked loudly against her ass, and she moaned. You actually did try to tell me to stop, but that's not what she wanted. Her hands dug into your thighs, her eyes pleaded with you to go along with it. I smacked her ass again, harder this time. "Is your husband hard slut?" I asked her. Her hand moved up over your cock and I could tell by the ashamed blush on your cheeks that you were.
"Not such a good man after all are you? You are enjoying watching your wife get spanked don't you?" My hand came down loudly on your wife's ass. Her body rocked forward with the impact.
"No, I don't. Stop this .." You said, but the bulge under your wife's hand was proof you enjoyed it.
"Liar." I said and smacked her ass harder still. This time making her yelp in pain.
"Stop it"
Another hard smack, she yelped again, her fingers rubbing back and forth against your cock. "Admit it, you want me to spank her. It makes your cock hard to see her punished." I smiled and smacked her ass again. But you are a stubborn man, or maybe you just wanted to see how far it would go. I picked her up by her hair and put her on her knees beside me and in front of you. Reaching behind me I produced a pair of steel handcuffs. I wrapped her hands around the leg of the coffee table and attached them with the cuffs.
From my bag I produced a vicious looking short tail flogger. "Take her panties off for me." I said combing my fingers through the tails. You had the audacity to tell me no one more time. Your poor wife would pay the price for that. Her ass was smacked and lashed over and over again until she was panting, begging for you to take off her panties.
"Take off your pants or her panties." I gave you the offer. "What will it be? Shall I keep beating her, or are you going to take off your pants Or her panties?" What a choice to have to make. I can't wait to see what you decide.
Sadie
1-844-332-2639 ext 222
www.phonesexwhimpers.com/sadie/