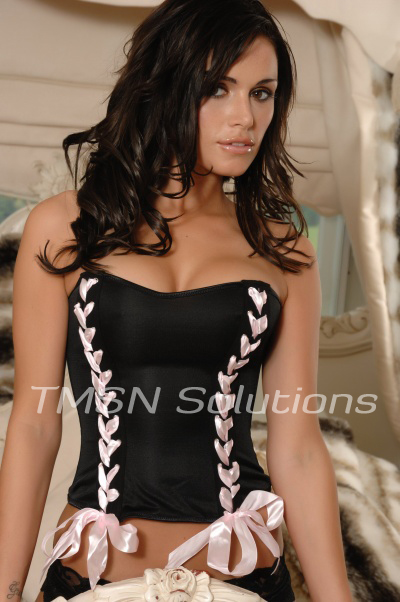 Sadie          1-844-332-2639 ext. 222
The view from my VIP box was such that I could keep an eye on the entire club floor. The pulsating music and lights were designed especially to bring out certain "results" from a certain type of man. Most people would pass through and enjoy an evening of partying and never be effected by the subtly crafted subliminal tones buried in the hard beat of the music. But every so often a man or woman would feel the effects. One such man stood in the midst of the tables half way to the bar, staring, frozen, trapped in a very real sense of the word.
I made my way to him through the crowd and whispered the command to come with me. He followed me through the employees only door into the secret area. There several of my "Sisters" were already enjoying their catches of the evening. Moans of pleasure, cries of pain melted into the thumping bass to create an erotic soundtrack. "Take off your clothes" the first simple command came from my lips.
Mindlessly the hypnotoy stripped out of his clothes. I looked him over and was pleased by what I found. His cock was soft but not small, his body fit but not overly so, a perfectly average man. I do so delight in taking the average and making it extraordinary. "Make this cock hard" I said taking it on my fingertips and watching as right before my eyes it filled, lengthened and stiffened in a matter of seconds. MM such power!
I asked a few questions and quickly ascertained that my average man was quite average in every way. No real wild or kinky, sexual acquaintance. Having anal sex with a woman his wildest occurrence thus far. I pointed him towards where my sister had her toy in shackles only her victim could see and feel as she brutally fucked him with her strapon cock. I commanded my toy to crawl to hers and to suck his cock. His face turned red. He moved to his knees with a stilting un-coordination that told me he was just aware enough to know what he was doing yet deep enough under my spell to be unable to resist the compulsion to obey. MM the sweet spot!
But crawl he did, until he was on his knees in front of the hard cock bouncing in front of his face. He was sweating, from his mental exertion to resist me. I leaned over him my nails stroking his cheek, the other hand moving over his chest as I whispered to him that I knew the real him was inside there fighting me. I purred that his resistance was a waste of his energy that I already had control of his mind and body and while he could try to fight me I would ultimately win. A choked groan rumbled in his throat. I laughed.
"You don't believe me?" my hand slipped under his balls, enclosing them in my fist, squeezing them painfully tightly. "Try to run. Try to leave." His body slightly swayed maybe half of an inch. "You can't." I stated the obvious. At that moment the music changed as if I had planned it. The second phase. Designed to take the capture of any victim more deeply into the trance state from which he or she can't escape.
"Suck his cock" I said simply.
His face turned redder, the beads of sweat poured down his face as he leaned forward. His eyes alone showing me the terror he felt as his body obeyed me. His mouth opening and his head dipping down that little bit to take the hard cock into his mouth. His eyes rolled and widened, darted back and forth wildly as if to tell me he didn't want this. But his lips sucked, his head moved up and down and suck that cock, he did.
Just the first test. But one that showed his remarkable sensitivity to our special brand of mind control. There was no turning back now. Any time, any where I could have him, own him, control him. Oh he didn't know that yet. But he would find out soon enough, but there isn't a thing he can do to stop me.
Sadie
1-844-332-2639 ext. 222
www.phonesexwhimpers.com/sadie/