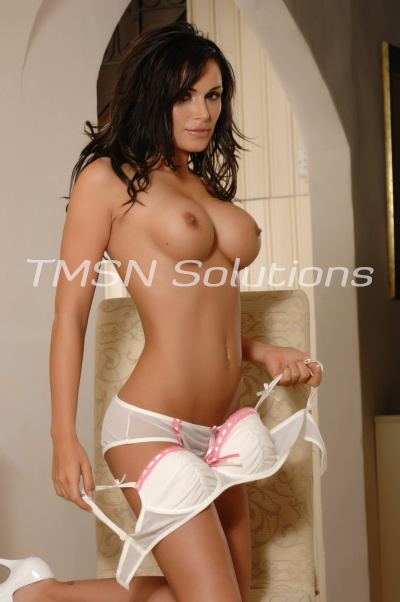 Mistress Sadie                1-844-332-2639 ext. 222
The slam of the front door was your first clue to the mood of your Mistress the moment she came home. "SLAVE!" she shouts immediately following the door slamming, sending simultaneous bolts of fear and excitement through you as you rush to the front door and fall to your knees. "Welcome home Mistress" you say with your head bowed and arms out to take my purse and keys. "Put those up and meet me in the playroom."
Hurrying to put my things away, you rush back to the playroom and find I have rolled up the sleeves of my blouse and am bending the crop between my clenched fists. You kneel just inside the doorway, being very careful not to make me angrier. With My crop I point to the spanking bench. Your knees on the padded kneeler, then your stomach over the small shelf and hands in front of you on the front padded bar. No sooner are you settled than the hard swat of the crop lands across your thighs.
"I am so sick of stupidity!" I say angrily as I release all my frustration on to your thighs and ass. Blow, after blow stinging as I pour out my anger on your tender flesh. Each thudding blow of My crop driving the fire of my emotions from rage to something more manageable. MMM seeing that red striped backside, feeling the slight raised welts against your thighs, oh yes, that is working.
My hand moves under your chest finding your nipple and squeezing, pinching, twisting as I relate the moronic episode that has sent me into this state of unhappiness. "I'm sorry Mistress," you gasp out in that lovely whimper. I release your nipple and slide my nails up over your back, smacking your ass again with my crop. I move to stand in front of you placing my foot up beside your hands on the bar, pushing your face against my pussy. I rub my pussy against your face and the top of your head and neck as I unleash more swats upon your red, warm ass.
"Lick my pussy bitch."
"Yes Thank you Mistress" Now is your chance, your chance to make it all better. You must focus and concentrate on nothing but filling your Mistress with pleasure, steering her from that bad day back to the place where she is happy with her obedient slave. This is just one of your many duties. One you relish in don't you slave? A chance to prove yourself worthy to your Mistress. Are you up to the challenge?
Mistress Sadie
1-844-332-2639 ext. 222
www.phonesexwhimpers.com/sadie/