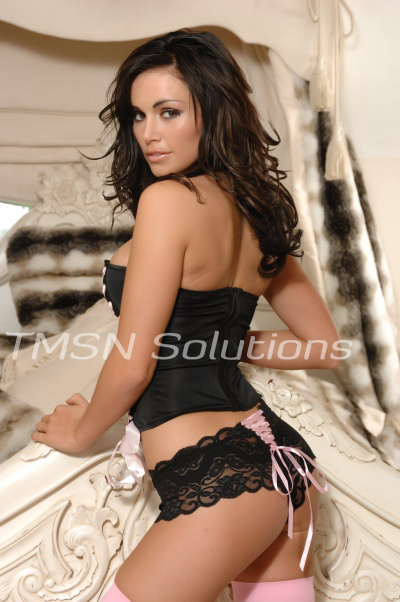 Sadie      1-844-332-2639 ext. 222
He is a bratty submissive man. He will obey but it is always with a twinkle of mischief in his eye. Often he obeys the letter of the command, not always the intent of the command. No one would ever suspect that he was submissive. His friends, family, co-workers all know him as the hard driven alpha male that he is in every other area of his life. However, I am none of those things. I sensed it from the first moment of our meeting. What he needed was a good Mistress. I am a great Mistress.
Submission Comes In All Different Flavors
There are all types of submission and none of them are right or wrong. Domination is a very personal thing and every submissive is an individual with unique talents, abilities, and potential. Of course, pleasing their Mistress is the common thread that runs through all submissive people.
That being the case there is a whole spectrum on which subs can be placed. From those who are at their best when completely controlled. No room for expression is given and obedience is strictly, swiftly and thoroughly given. Some require the intense control of every aspect of their lives. Because of this, they may find their diet, sleep, orgasms, bathroom habits, and daily activities rigidly structured. In like manner, the mode of address, the posture of presentation, language, eye position, any tiny detail could be demanded. In this case, consequences for failure to obey to the satisfaction of their Mistress can be severe.
Not All Submission Is The Same, But It Always Means My Pleasure Before Yours
On the other hand, there are those who thrive best when given a little bit of leeway to express their own personality in their submission. These, while also requiring a strong hand of guidance, like to tread the fine line between obedience and defiance. These are commonly referred to as "brats". They will obey just enough to avoid punishment, because a true sub, regardless of their alignment, ultimately desires the pleasure of their Dominant. However, there is, at times a little sass, a little snark that flavors their actions. But an important note, is no matter how bratty a sub maybe, they always respect that the Dominant has ultimate power and control, because otherwise, what is the point, really?
How I Take My Pleasure Is My Decision, It Comes In Many Forms
Such was the case with this one. No amount of girly lingerie would ever make him look feminine. The ridiculous pink ruffled negligee only made him look ridiculous. He knew it and I knew it. Yet there he stood in the nightie with his an embarrassed blush on his face. We both knew why he was wearing it. Not because it made him look more attractive. It wasn't because he had cross-dressing desires. Nor was it because he harbored a desire to be a woman or a sissyboy. No, he wore it only because I wanted him to wear it. That's all.
In like manner, he was ordered to his knees and commanded to begin his worship of my body at my feet. Looking down into his eyes I could see the devil dancing in them. It was a war of wills he was after. To give credit where it is due, he is very good with his oral attentions. Skillfully he attacked every one of my weaknesses. This brat knows that my foot fetish is strong. Ruthlessly he licked, kissed and lavished his oral abilities on my feet until my pussy was wet and throbbing.
Bratty submissives Make For Some Fun Games As Long As They Remember They Are submissives Still
With false meekness, his eyes glowed up at me while he asked if he could touch my legs. Meeting his challenging gaze I nodded, granting him permission. His intention was loudly broadcast through his actions. This boy wanted to drive my need for sexual satisfaction to such a height that I would lose control and allow him to do as he pleased. Every action deliberate and provoking.
To be fair, the teasing manner which he kissed and caressed my legs following the previous foot worship was making it a challenge. Some part of me, mostly my pussy, was screaming for more. However, that stronger part of me that is Dominatrix loves control more than the immense physical pleasures. Mistress always wins.
Power Play is A Delicious Game. A Precious Gift is submission Given
There was a cocky note to his voice as he asked permission to touch my pussy. Confident that I wanted him to lick my pussy, he bravely leaned forward in anticipation of my answer. But the answer is No. Allowing him to move on to my stomach and hips, however, my pussy was still off limits.
As low as he could possibly get and still be considered my stomach, he resumed his oral adorations. The brat made his arguments between teasing licks and kisses. "But wouldn't Mistress enjoy an orgasm now?" or "Mistress I can smell how wet you are. Your need makes me ache, to please you."
Orgasm is Not The Only Goal of Domination, My Utter Power Over You Is What I Desire
There is no doubt that I wanted to orgasm. Nor was there any doubt that I would have one when I was damn good and ready, and not a second before. But as of this exact moment controlling him, watching him squirm and suffer, is giving me greater pleasure. This brat was about to find out that I love to play games. I'm very good at them. Ultimately, he is my sub, no matter how attractive, wealthy, powerful, smart, funny, charming he may be in any other place in the world. At my feet, there is only Me. My will, My way, and in the end he will adore me even more for it being so.
Mistress Sadie
1-844-332-2639 ext 222
https://phonesexwhimpers.com/sadie