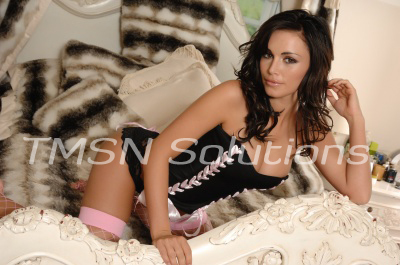 1-844-332-2639 ext. 222
"Power is the ultimate aphrodisiac" – Henry Kissinger
It's true you know? The power I feel over you turns me on to a dangerous degree. It's like an addiction. One taste and I want more, and more and more until I'm consumed by controlling you. You know what it's like don't you? Feeling my power over you begin to nibble away at your control. Such conflicting desires. You want to obey, you want to please me, and it feels so good that you want to orgasm but you can't do both can you? Which wins out? Do you surrender to me or to yourself? It's always an entertaining dynamic to see at play.
I hear the need in your voice. I hear how hard it is for you to not give in to that blissful temptation to cum. The pleasure mounting and mounting until all you want is to explode with the heat and pressure. But then this isn't about what you want is it subbie? No. THIS is about what I want. I want to control you and feel my power over you that goes beyond the physical. Oh yes your body will feel it but even more so the biggest sexual organ you have, your mind. You would be amazed at what I can do there.
The rich rewards of obedience, the shame and humiliation of failure, The joy that can come from a ruined orgasm or the disappointment and embarrassment that could result of from what some might say is the ultimate pleasure.
This is my world. I make the rules. If I say up is down or black is white then that is what your reality becomes. Pain is pleasure, denial is a gift and surrender is victory. Do you doubt me? I would love to show you just how true it can be.
Everyone wants an escape. It's waiting for you, if you are brave enough to take it. Step away from the control of your life and into the warm pool of submission that is waiting to take you under. There is only one rule… MY Rule. I decide what's best for you. I decide what you need, what you deserve and what you will receive. If you can accept that, then you are invited to come tour my world.
Sadie
1-844-332-2639 ext. 222
1-866-239-2972
www.phonesexwhimpers.com/sadie/