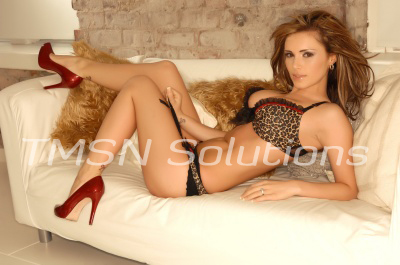 Sadie     1-844-332-2369 ext. 222
Carpet. That's all he could see. This same 6 inches of carpet. His forehead has touched the floor for the last 20 minutes listening as his Mistress plays with her pussy talking to another man about how much she would love to be fucked by him. The cock in its silicone cage between his legs throbbed painfully as he tried not to shift or move but to be perfectly still. The points of her stiletto heels pressing down into his back as she braced Herself against his back fucking her pussy was not making his task any easier.
He recognized that tone in her voice, she was going to cum. He braced himself for the pain he knew would come as his cock swelled harder testing the confinement of his cage. He loved hearing her orgasm. It didn't seem to matter to his dick that she was cumming for another man. He swallowed the painful whimper to remain silent as he had been ordered.
He couldn't stop the hiss of pain as her foot slammed down on his back suddenly. He bit his lip and swallowed the rest of his exclamation. The pain of his cage now excruciating. His fists clenched above his head trying to focus on his breathing. But the scent of her aroused pussy grew closer. He felt the poke of her dildo against his cheek. Lifting his head mouth opened he gladly accepted the phallic object into his mouth. It tasted of Her. He sucked and licked like the eager slave he was.
The chain on his leash pulled him upright and he was turned towards the sight of his Mistress' pussy wet and shining with cum. The cage a torture device once more. But as bad as it hurt he couldn't take his eyes from her pussy. He sucked the dildo but it was diving into her pussy he dreamed about. "Clean up my pussy slaveboy." She pulled the sex toy out of his mouth and brought his tongue close to her pussy. "thank you Mistress" So gently his tongue brushed her lips. Licking and swallowing every precious drop of her wetness.
Just as he was becoming lost in the feel of his tongue searching inside her warm wet folds, his hair was suddenly pulled tearing his face away from her pussy. Then his cock made another futile attempt to ram the end of his locked cage. Ow! The slave blurted out before he could stop himself making his Mistress laugh. "poor boy" she said with mock pity and patted his head. "Only 7 more hours to go…" she laughed and propped her foot up on his shoulder as she pressed the button on her phone. "Hello…" She began and he knew the rules. Be still, Be silent. Be obedient.
Sadie
1-844-332-2369 ext. 222
www.phonesexwhimpers.com/sadie/