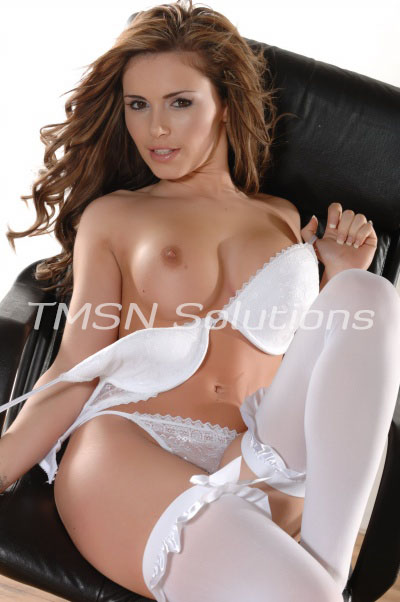 Sadie           1-844-332-2639 ext. 222
You just have to love how men are for women who look like me. I was looking at a new car. The salesman was making not so subtle hints that I could get a very big discount if I were willing to fuck him. Of course, I wanted that discount. I have shoes to buy! So I let him think that I was going to take him up on his offer. It was all too easy, really. He took me back into the VIP client room. I wish I could tell you it was difficult to get him naked and his arms tied to the arms of the chair. But it wasn't.
The eagerness reeked off him in waves. I had only opened my blouse, showing him my tits in my bra and he was already sweating. I slipped my fist around his cock and began stroking him. Oh yes he was enjoying that. At first I played with his mind as much as I played with his cock. Deeper and deeper he slipped under my control. I stroked him fast, then slow, then not at all. His cock bobbed and twitched. He whined and complained that I wasn't playing fair. This wasn't the deal.
Deal? I thought that is why we came back here to make a deal. I took him back in my hand. It didn't take long until he was teetering on the edge of orgasm again. No, no, no, not yet. We weren't finished with our negotiations. His groan as I released his cock again just as he was ready to spill over the peak, was so loud I had no choice but to reach up under my dress and take my panties off and stuff them into his mouth. I didn't want his manager coming to check on him.
I pulled my skirt up over my ass baring it to his sight as I slide my soft smooth ass over his thighs to press against his hard on. I rocked myself up and down, back and forth, rubbing my naked ass against his cock while I looked over the sales contract. Changing a few numbers here and there. Adding a few features, until I felt like it was exactly what I wanted. Fruitlessly he humped his cock against my ass trying to find some relief but our negotiation wasn't over yet.
I stood up and turned around to look at him. He growled at me. So fierce. His eyes looked like they wanted to do violence to me. I laughed. Aww what's the matter? A little frustrated? Hahaha! Do you want me to stroke you more? I smiled? He nodded and mumbled something behind the gag. I think it was please, but its hard to know.
Oh I wasn't done with him by a long shot. I had one more little trick to have some fun with. I reached into my purse and pulled out the little tube of numbing lube. I squirted it more than amply over his cock. His eyes rolled back into his head as I massaged the lube into his cock. He was soo hard. At first, as the numbing agent began to work, well his erection began to fade. Just enough so that I could slip his soft cock into my handy chastity cage. I made a show tucking the key between my tits.
I left the contract on the desk and tucked his caged cock back into his pants and zipped him up. I untied his hands and walked to the door. If you want the key, my number is on the contract. When you are ready to agree to my terms give me a call.
Sadie
1-844-332-2639 ext. 222
www.phonesexwhimpers.com/sadie/